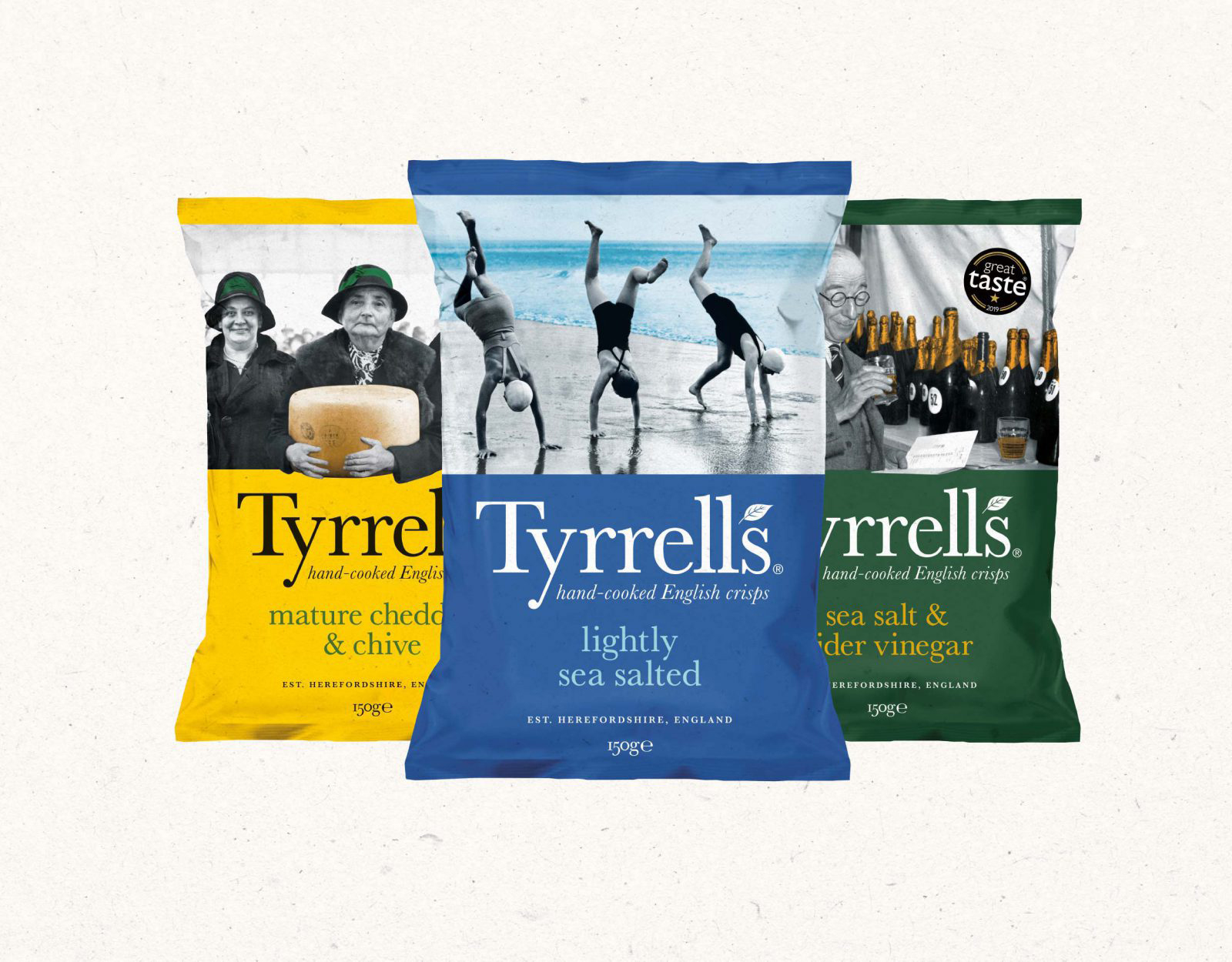 Over the years, our talented creative team has designed a vast array of packaging for clients from various industries.
Today, we wanted to focus on our designs for just a few of our food and drink clients. After all, good packaging should always stand out on shelf, capturing the attention of potential customers whilst highlighting what differentiates you from the competition.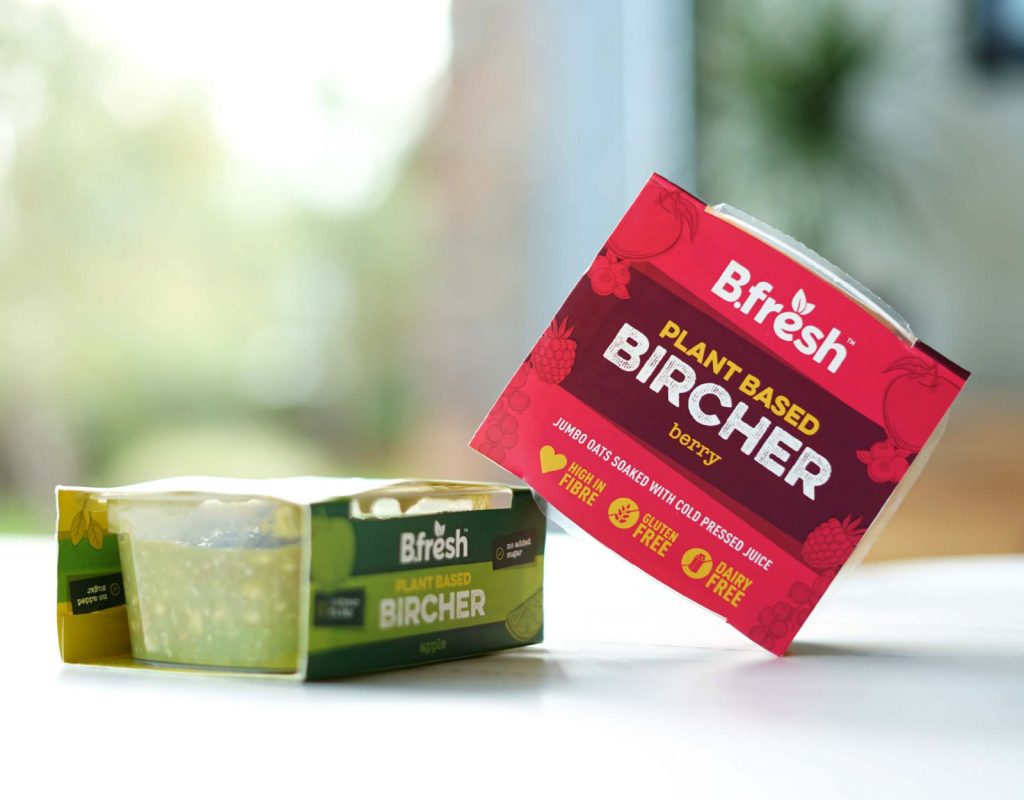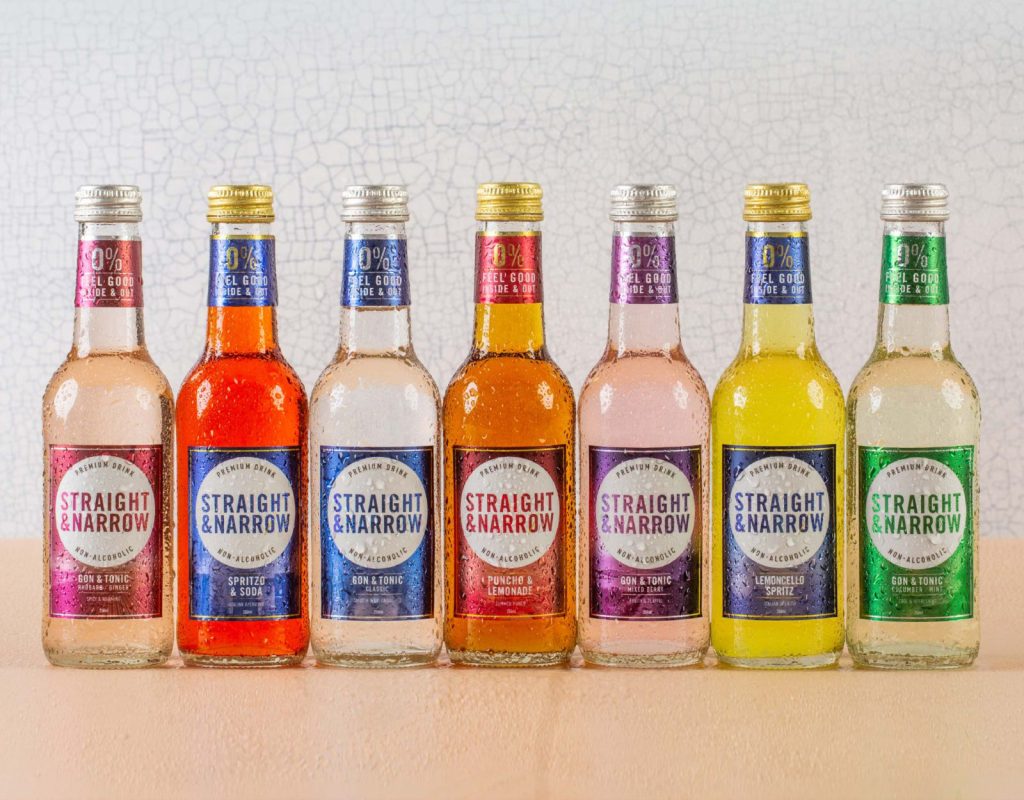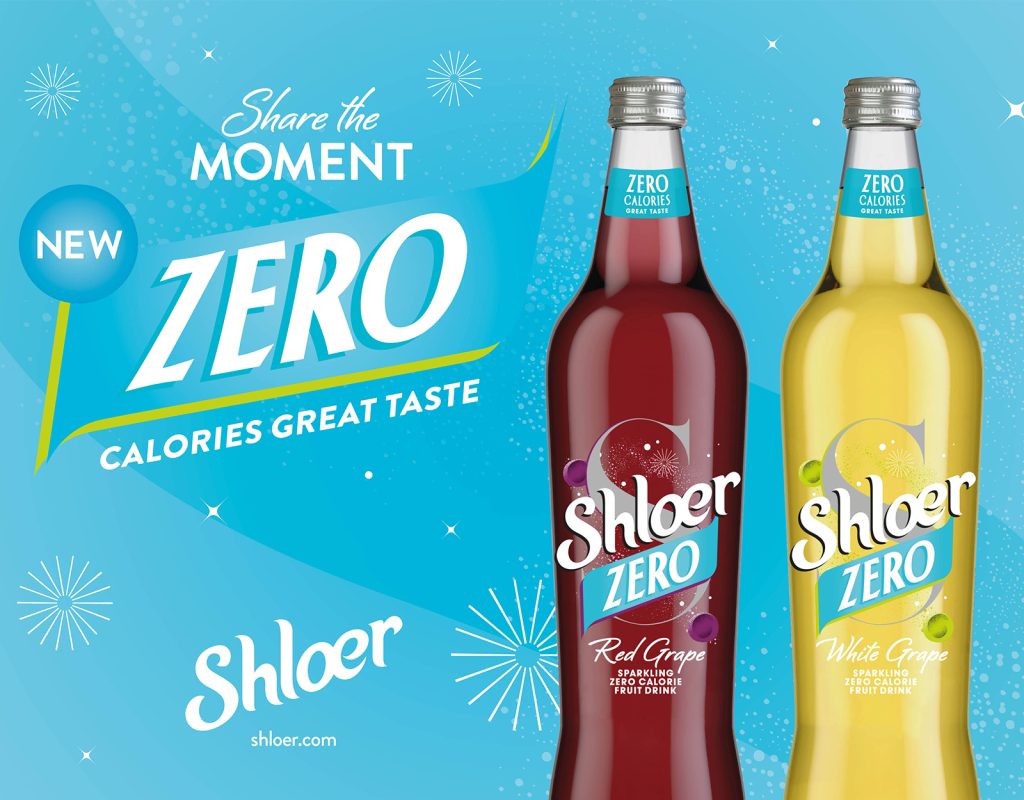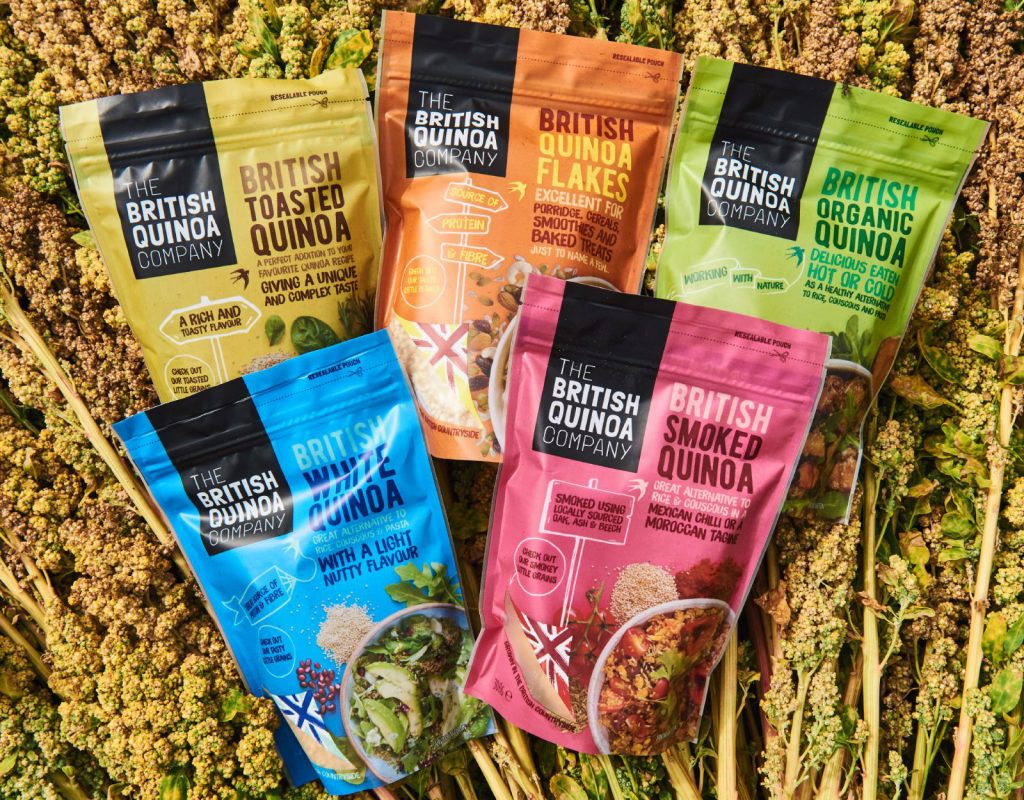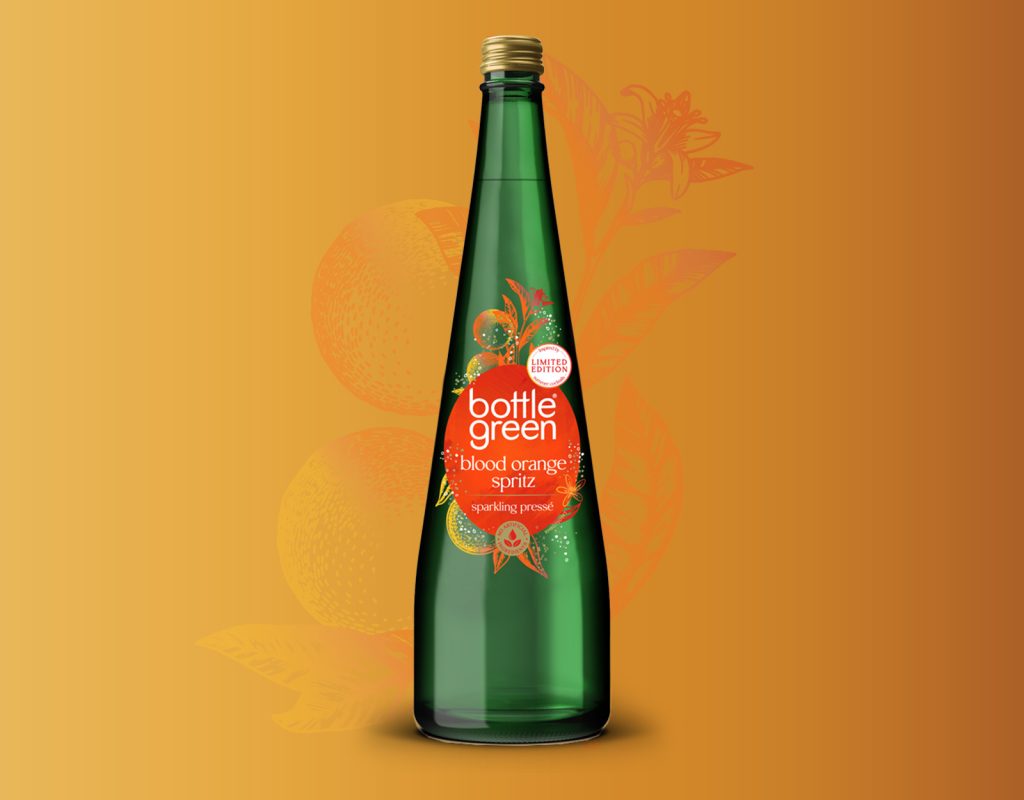 Tyrrells
British snack brand, Tyrrells, wanted to build on their existing presence, keeping the iconic characters as well as the unique, quirky and very British personality at the centre of all communications. We have been involved in a wide variety of projects, from concept to creation, delivering a range of cheeky packaging. As a result, Tyrrells continues to grow with brand evolution and new products always giving their loyal customers something to smile about.
Discover more about our work with Tyrrells.
Shloer
The sparkling juice drink, Shloer, wanted their packaging to increase awareness and create an elevated, consistent brand. We delivered a range of new packaging that creates standout on the shelf and various mock-ups for future brand concepts. Indeed, initial sales and feedback of the new Shloer Zero product have been favourably received.
Discover more about our work with Shloer.
Bottlegreen
Launching a new limited edition product into the market for summer 2023, Bottlegreen approached Source to create an exciting new label design for Blood Orange Spritz; a delicious soft drink combining orange juice with lightly sparkling Cotswold spring water. Perfect for a refreshing summer's evening.
B.fresh
Cold pressed juice drinks brand, B.fresh, wanted a new look and feel to reflect their innovative, creative, agile approach to introducing original, healthy products into the market. We delivered a range of consumer packaging designed to ensure the vibrant tone of voice and energising brand personality is always highly prominent.
Discover more about our work with B.fresh.
British Quinoa
The British Quinoa Company were after a redesign of their dated boxes to deliver a more inspiring consumer brand proposition. We developed strong, modern packaging which greatly elevated the company and products from where they were previously. Since then, their range has been listed in Sainsbury's, Marks & Spencer, Waitrose, Grape Tree and Amazon.
Discover more about our work with British Quinoa.
S&N
Premium non-alcoholic drinks brand, Straight & Narrow, was founded during lockdown. As a completely new concept, the packaging needed to promote the vegan ingredients, low calorie and low sugar benefits, whilst emphasising the popular and recognisable flavours that consumers would relate to. We produced packaging for a distinctive bottle shape, using premium foil labels, bold colours and a background image for each product which illustrated the origin and individual characteristics of each flavour.
Discover more about our work with Straight & Narrow.
Purition
Natural whole food shakes company, Purition, were looking for updated packaging designs which were modern and simple to reflect the wholesome nature of their brand. As a result of this, we delivered a much more eye-catching design with clear and concise lifestyle messaging, whilst staying true to Purition's brand values and identity.
Discover more about our work with Purition.
PDM
As one of the UK's leading salad growers, PDM produce over 8,800 tonnes of baby leaf every year. Our longest standing client, PDM have been with us from the very beginning and, in our 32 years working together, we have been involved in numerous product launches and packaging designs. Our most recent work involved creating a range of bagged salads for Iceland using a contemporary style together with fresh, modern colours to really stand out on supermarket shelves.
Discover more about our work with PDM.
Got an exciting project?
Our talented designers are experts at making products stand out on the shelf. And we absolutely love getting involved in a new project, taking the time to understand your business goals and discover what makes your customers tick.
If you have a product that's destined to fly off the shelves, let us help create a packaging design that's guaranteed to catch your customer's eye.