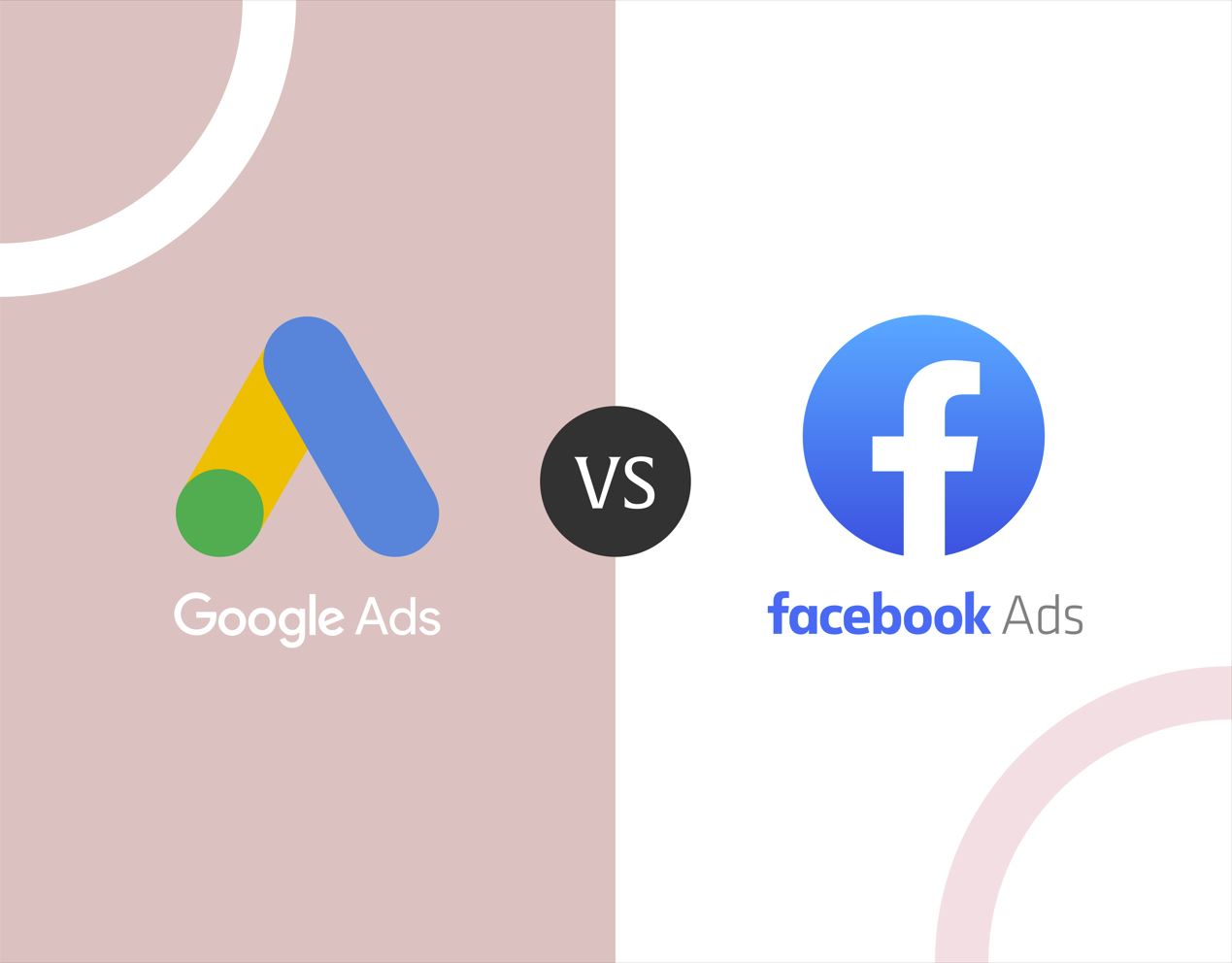 One question we often get asked by prospective clients is; "Where is the best place to advertise my business?" The debate rages as to whether Google Ads or Facebook Ads are the most effective, so here we've offered some pros and cons to help you make your decision.

Let's start with the basics:
What are Google Ads?
Google Ads refers to an advertising platform that Google owns which allows you to promote your business online. Advertisers can use Google Ads to promote their business online, sell products or services, build brand awareness and increase traffic to their website. Google Ads accounts are managed online, so you can create and change your ad campaign at any time, including your ad text, settings and budget.
What are Facebook Ads?
Facebook Ads are a Meta product which allows you to serve ads across Facebook and Instagram. Being a primarily visual platform, Facebook Ads relies on visually appealing content to capture user interest in the feed.
What are the advantages of Google Ads?
An immense audience
Google processes more than 8.5 billion searches every single day. With over 80% of the search market share, Google is undoubtedly the most popular search engine in 2023. Although we're quickly seeing the advancement of platforms such as TikTok being used as a search engine, Google is still the most popular platform to find answers to search queries.
Purchasing intent
One of the greatest advantages of using Google Search Ads is that you can target an audience of users with high purchasing intent. When looking to purchase something online, most users will type the query into a search engine. This gives us an opportunity to reach an audience who have already made the decision to purchase the product or service we are selling, as opposed to targeting social media users who are not in purchasing mode when you advertise to them.
A wide range of ad types
A wide range of ad formats are available in Google Ads, depending on your needs and the audience you are trying to reach. You can select from Search Ads, Display Ads, Shopping Ads, Discovery Ads, Performance max, Video Ads etc. Whichever format you choose, make sure it is relevant to your target audience and the goal you are trying to achieve for the campaign.
What are the advantages of Facebook Ads?
Unparalleled audience granularity
Facebook has millions of data points on each user, which means you can be super granular when it comes to your targeting. If you have a specific demographic or user interest you want to target, or if you want to remarket to users who have previously interacted with your business, Facebook audiences allow you to target them specifically.
Facebook is a visual platform
Facebook is an inherently visual platform, which makes it a great place to advertise for creative, bold and visual brands. One of the key elements to being successful with Facebook Ads is getting your visual creative right.
What about Instagram Ads?
One of the great things about Facebook Ads is that Facebook is owned by Meta – as is Instagram. Because of this, you can serve ads across Facebook and Instagram seamlessly through the same Facebook Ads interface.
Are Facebook Ads still effective in 2023?
There is no doubt that Facebook Ads are still a relevant way to reach your target audience in 2023. Even though there are many other advertising platforms you could use, Facebook Ads have a large user base and are great for targeting specific demographics. You can also create very specific ads that target people who have already shown an interest in your product or service.
What are the key differences between Facebook Ads and Google Ads?
User intent
One of the key differences between Google Ads and Facebook Ads is the intent of their users. On Google Ads, you can target users who are specifically searching for your product or service. These are deemed as bottom of funnel (BOF) users who are actively searching and ready to buy. Social media users are not necessarily searching for a product or service when they see your ad, so they might be less inclined to click it.
Stages in the buyer's journey
Facebook is a great place to build brand awareness and trust as its users might not be aware of your product or service, meaning you can bring users in at the top of your sales funnel (TOF). Users who are searching for a product or service on Google will be further along in their buying journey.
Historical user data
Facebook and Google allow you to analyse your historical data differently. By implementing the Facebook Pixel on your website, you can track users who have completed certain events, such as 'Add to cart', 'Proceed to checkout', 'Download file' etc. Whilst you can also set up events to track similar action in Google Ads, the Google Ads interface will allow you to compare certain things, such as how you compete in the auction compared to your competition, how much of your eligible impression share you are reaching and how much of your impression share is lost due to budget (or rank).
Why understanding your audience is important
Where does your audience spend their time online?
If you already have a large community on social media, then you might have good success running a highly targeted campaign at your already interested audience. However, if you don't already have an engaged audience but you want to acquire new customers, you might be better placed running an ad targeting bottom of funnel users on Google.
What are your campaign goals?
The ad platform you use will be determined by your audience and your campaign goals. For example, if you want to run a brand awareness campaign, running a broad targeted Facebook Ads campaign might work for your goal. Whereas if your campaign goal is to sell as many trainers as possible, a Google Shopping Ad might be the best place for you to focus your budget.
Should you run Facebook and Google Ads at the same time?
Again, there's no right or wrong answer here. The decision of whether to run Facebook and Google Ads at the same time will depend entirely on the goals of your business, and of course your budget. Like with all marketing, each of these advertising channels will charge for you to advertise, so it really is a case of determining which will be the most effective channel for your business.
However, if you have sufficient budget to conduct testing, then running Facebook and Google Ads at the same time will allow you to achieve a larger reach more quickly, as the two platforms reach a different audience and demographic.
Ultimately, the decision of whether to run Facebook and Google Ads at the same time will depend on your business goals and the targets for your campaign.
Our final verdict
Our final verdict on the Google Ads vs Facebook Ads debate? Both platforms have their merits and can generate good results with the right ad creative and targeting. Our opinion is that, if you already have a large presence on social media, or are looking to build an online community, use Facebook Ads. If you want to reach 'bottom of funnel' users who are ready to buy a product, use Google Ads.
If you're not sure which is best for your business, consult with a specialist advertising agency and have them guide your decision based on your goals.