Zero To Hero – The Story Of Straight & Narrow
18.10.22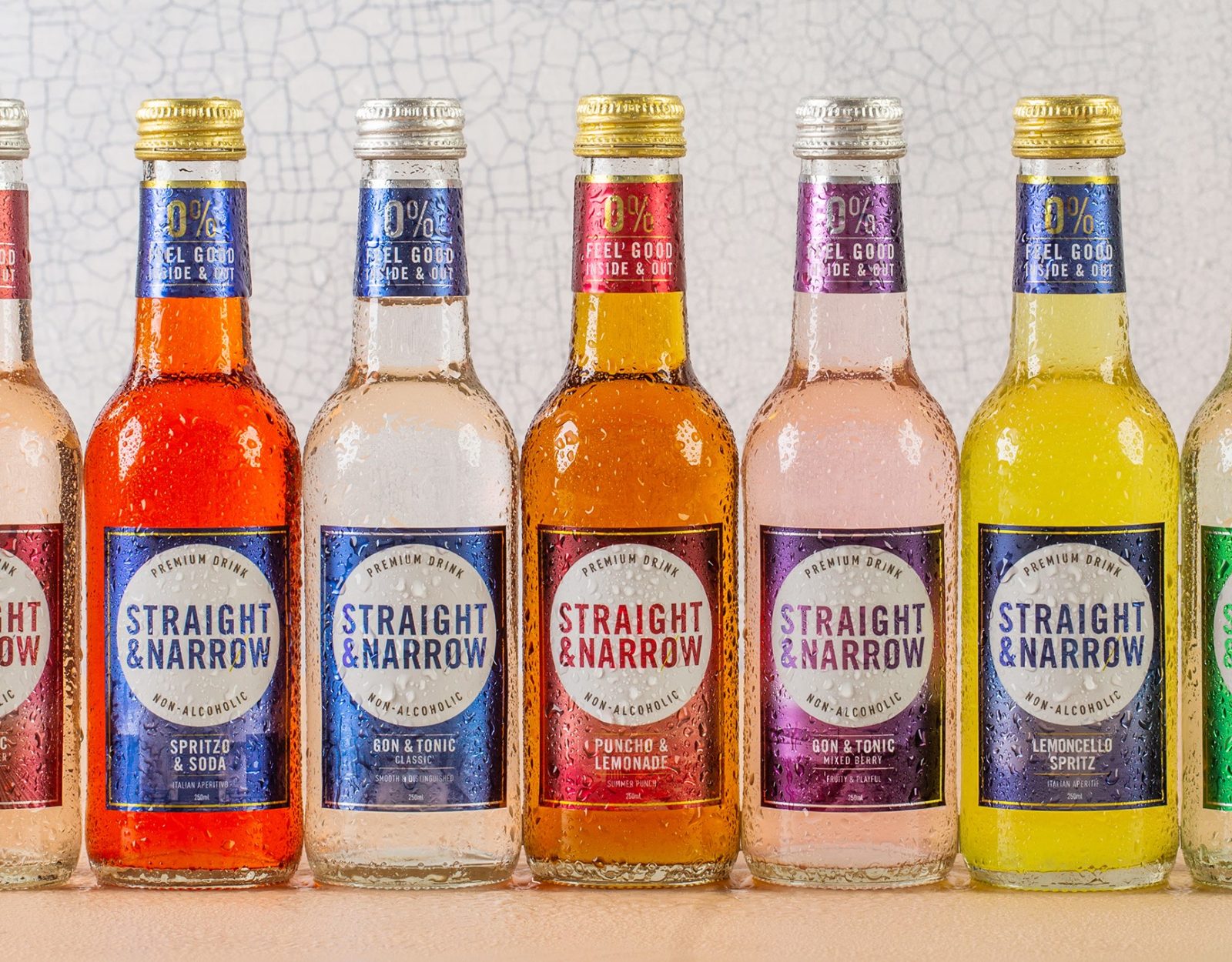 Everyone loves a success story, right? Well, this one's definitely worth a read…
Our client, Straight & Narrow is growing at a pace in the non-alcoholic drinks market, having recently won numerous awards. But how did it all begin?
The idea started when Founder and Director, Jason Stoneham, found that, like many others, his alcohol intake had increased during lockdown. He wanted a solution that would enable him to cut down, but not compromise on enjoying his usual tipples.
With that, Straight & Narrow was born. With a motive of "Feel Good Inside & Out", the brand consists of a range of premium non-alcoholic drinks that are full of flavour and carefully blended using only natural flavours and colours.
Premium packaging for premium drinks
Holding such a unique place in the food and drinks market, Jason wanted to create a brand that would stand out for its values and grab attention, whilst always reinforcing their 0% alcohol appeal.
Our creative team got to work developing a brand focused on the products' vegan ingredients, low calorie and low sugar benefits, whilst emphasising the popular and recognisable flavours. The non-alcoholic element is captured via a subtle strike line through the 'O' in 'Straight & Narrow' and each products' design features a carefully selected image to illustrate the individual flavour.
The sky's the limit
With new products in the pipeline, Jason's "Ready to drink" range is rapidly gathering momentum. Since the brand's conception, Jason has celebrated the arrival of his son, Louis, won six International Wine & Spirit Competition awards, cycled Cure Leukaemia London 2 Paris 2022 fundraiser helping raise a whopping £200k, and is a Finalist in the 2022 New Entrepreneur of the Year Award.
As non-alcoholic drinks rise in popularity nationwide, Straight & Narrow drinks offer an affordable, quality alternative. And we can vouch for them – many bottles have been enjoyed by the Source team and our clients.
Sometimes, all it takes is an idea. If you embrace it, nurture it and remain passionate about it – all whilst working with an experienced creative agency! – it's amazing what can be achieved.
Got an idea you want to turn into something big? We love nothing more than getting stuck into brand and packaging projects. Get in touch – we'd love to hear from you.