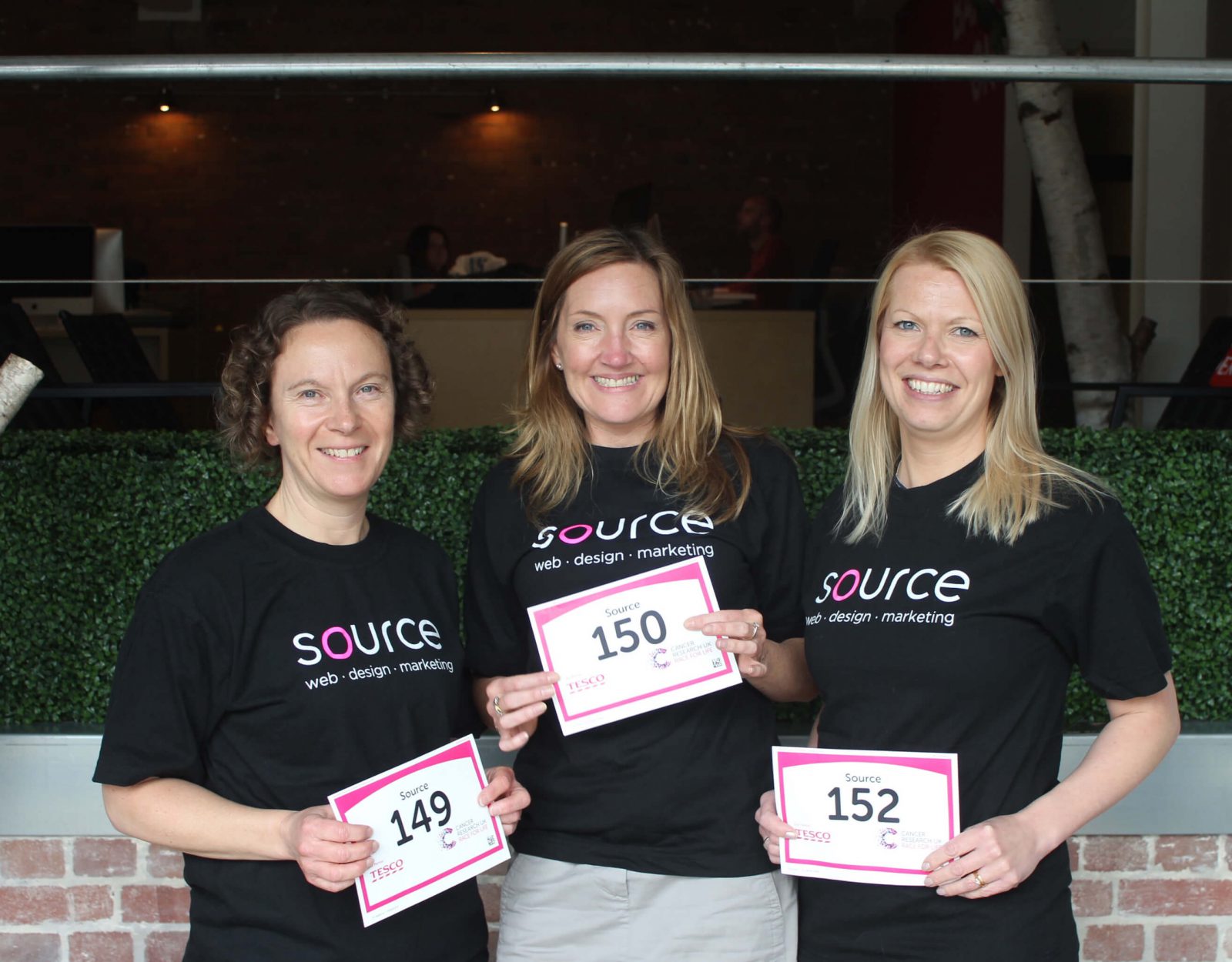 Novelty t-shirts on and running shoes at the ready, Source is uniting with thousands of women across the country for one purpose; to beat cancer!
On Sunday 11th June, Sally, Kirsty, Paula and Jem will be lacing up their trainers, getting ready to run 5K in Shrewsbury's Race For Life. The women's-only event has been running since 1994, where ladies across the country are sponsored to walk, jog or run the 5-kilometre course and all proceeds are given to Cancer Research UK.
Over the years, Source have been more than happy to raise money for various charities all across the UK; more recently in December 2016, we devised '25 Days of Christmas', our charity fun game which took place over the Advent period and raised £1,175 for local Shropshire charity, Hope House.
But this time, we're delighted to be taking part in such a worthy, pre-established event and we're excited to be joining other women from Shropshire and beyond to support this great cause. In fact, we love this event so much that this is our fifth time!
How can you support us?
Whether you wish to donate to the cause, come along to cheer us on, or just send us your well-wishes, your support will be gratefully received, giving us plenty of motivation to reach that finish line.
Want to come and watch? You'll find us at the starting line just before 11am in The Quarry on Sunday 11th June – we'll be wearing our very own black and pink Source t-shirts so we'll be hard to miss.
Want to donate money? Whether it's pennies or pounds, every little helps and your donation will go a long way towards battling cancer. Sally, Kirsty, Paula and Jem all have individual fundraising pages for the event – all of which are listed below – but we are fundraising collectively as Source.
Sally – https://fundraise.cancerresearchuk.org/page/sallys-fundraising-page-272
Kirsty – https://fundraise.cancerresearchuk.org/page/kirstys-fundraising-page-2736
Paula – https://fundraise.cancerresearchuk.org/page/paulas-fundraising-page-246
Jem – https://fundraise.cancerresearchuk.org/page/jems-fundraising-page-1
So please dig deep and give generously to a great cause!