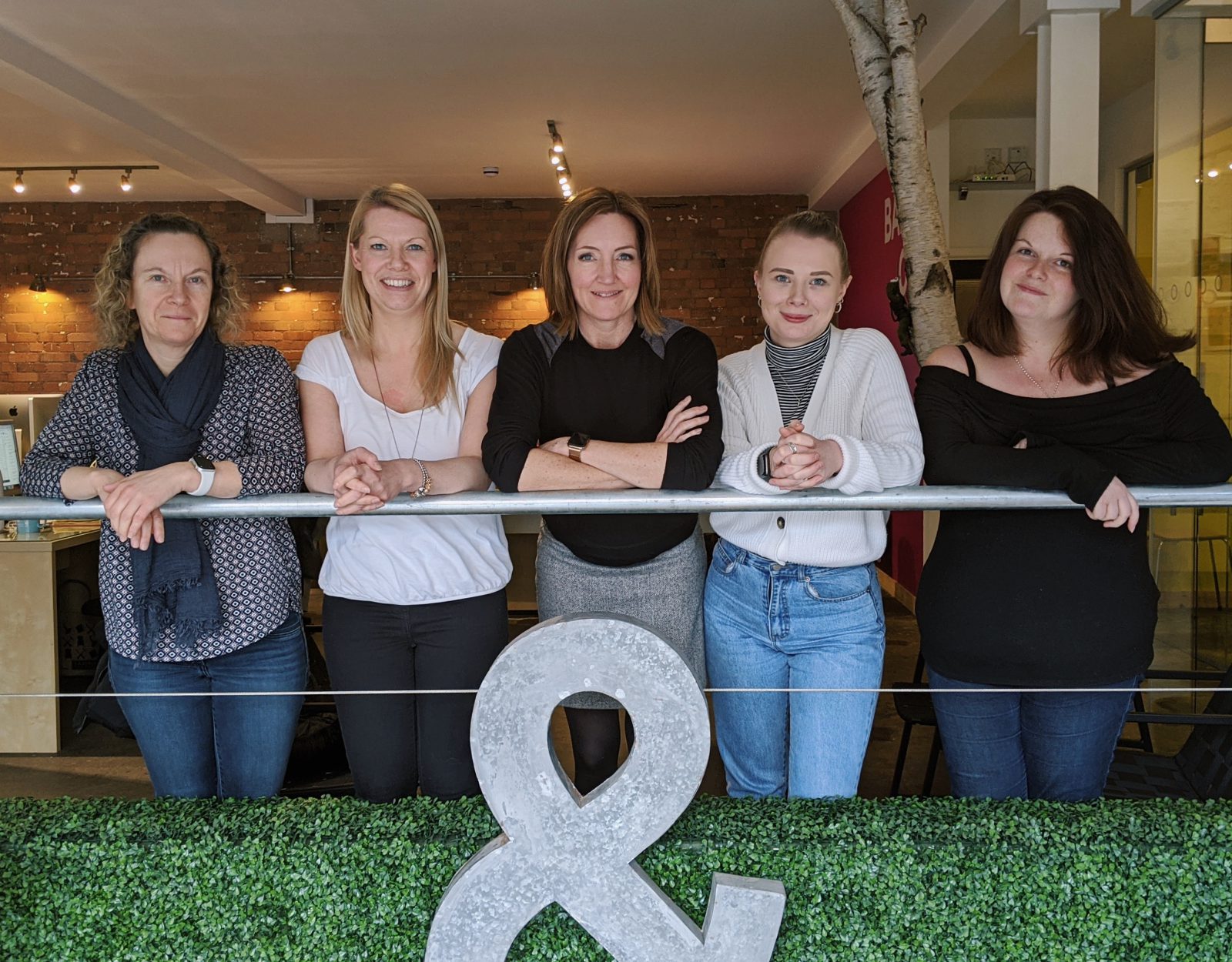 We're extremely proud to have a lot of amazingly talented women here at Source – in fact, we make up nearly half of the workforce. We are the only full-service agency in Shrewsbury founded by a woman (Sally), and the other brilliant ladies working here include our Creative Director (Paula), Office Manager (Kirsty), Account Manager (Daisy) and Digital Marketing Executive (Allie). Unfortunately, this balance is uncommon for most digital agencies, and even more uncommon in many other industries.

In the lead up to International Women's Day on Sunday 8th March, we wanted to share our thoughts in a quick Q&A about how women can succeed, who inspires us, and what we can do to help future generations.

Only 26% of people working in the digital sector are female. What do you think the barriers are for female employment in this sector?

Sally – "I know it may sound clichéd but I think website development, by its more technical nature, attracts more male candidates. However, I'm surprised if this includes digital marketing, which I'd have thought women would be particularly adept at, especially social media."

Daisy – "Sadly I think there is still a bizarre and archaic view that women are less 'tech-focussed' than men and therefore less capable of fulfilling digital roles, ultimately resulting in gender-biased recruitment – particularly for senior roles."

What would your advice be for women who are just starting their career?

Allie – "Try and find a fun and inclusive working environment. It is important to do a job you love, but it's also important to feel respected around the people you work with. And you've got to enjoy it, of course!"

Sally – "Stay focused on what you want to achieve. Work hard and smart and be professional at all times."
Paula – "If you can find a career you enjoy you're halfway there. If you're lucky enough to love what you do for a living, treasure that and appreciate the opportunity. We all spend a lot of our lives at work, and it's important that we are somewhere we enjoy being and somewhere we feel valued. Spend time considering the right job and career path for you, it should be something that makes you happy. Work hard and take ultimately take pride in what you do."

Which woman inspires you the most and why?

Sally – "My mother. She's made of strong stuff and just gets on with it, no moaning or feeling sorry for herself. When things aren't always going to plan, you just dust yourself off and get on with it. That inspires me!"

Allie – "I've always struggled with food and my weight – I previously lost 6st, but after having my son, I put quite a bit of that back on. I'm back at it again but I still have a way to go until I reach my target. One of my methods of "staying on track" is by posting my journey on social media. A few years ago, I met up with a bunch of people online who were doing something similar. We have since become good friends and two of them are women who have had great success in losing weight and have been able to keep it off. They definitely inspire me to keep pushing myself every day."

Daisy – "I'm currently being inspired by Florence Given – writer, artist, feminist, badass."

How do you think society can encourage and nurture employment among women in the creative and digital industries?

Daisy – "By challenging/f***ing up the patriarchy"

Allie – "By doing things like this and encouraging the conversation to continue online and always. Also, the representation of women is hugely important in society."

What will be the biggest challenge for the generation of women behind you?

Sally – "Personally, I don't see there are particular challenges for women any more than men. At Source, each individual is valued on their own merit regardless of gender or age. Often the biggest challenges are those in our minds."

Daisy – "Closing the gender pay gap!"