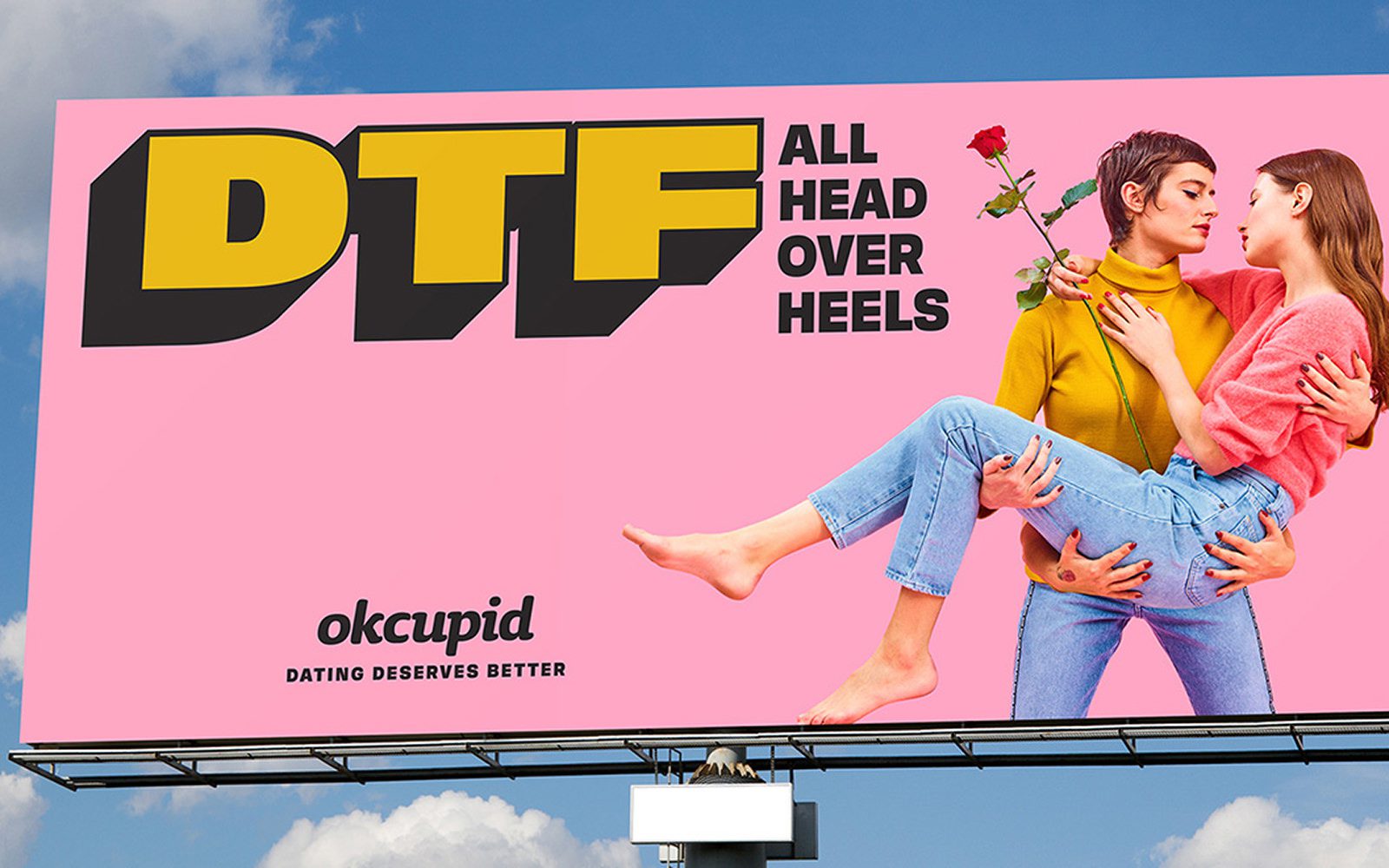 As 2018 comes to a close, we're taking a look back at the world of marketing to remember some of the best campaigns that were created over the past year.
OkCupid
Kicking the year off in style, dating app – OkCupid – decided it was time to reflect their users' desires when it comes to the world of online dating. Using striking imagery and bold colours, they took the acronym, DTF ("Down To…get jiggy with it"), and turned it completely on its head by focusing on what their users could get from using their dating app. In a world of Tinder and Plenty of Fish, OkCupid wanted to iterate that they're not interested in the short-term hook-ups, but rather helping people achieve the long-term relationships.
KFC
KFC's 'our bad' ad is brilliant. pic.twitter.com/CHFU5HDcrO

— Alex Goy (@A1GOY) February 23, 2018

Who can forget that dark time back in February when KFC ran out of chicken? The fast-food chain had one job but messed it up royally. Rather than hiding in the shadows and hoping the embarrassment would fade away with time, KFC took a brave move and acknowledged their error with some suggestable rejigging of their lettering. This approach paid off as people appreciated the clever use of humour to recognise a potentially devastating blunder and KFC managed to avoid any further long-term impacts to their brand.
McDonalds
Very few companies could chop up their logo and still achieve recognition. But one that can is McDonalds who did this on a selection of well-placed billboards in Toronto. Minimal wording coupled with their distinctive red and yellow brand colours, McDonalds' "Follow the arches" campaign meant that, whether they were to the left, the right, down the next exit or had just been missed, passing vehicles were directed to their nearest restaurant.
BBC

Arguably the biggest event of the year was bound to make a huge impact in the world of marketing. And the BBC must certainly be crowned as winners for the most ambitious way of commemorating the World Cup. Intent on creating something that would last way beyond 2018's event, each frame of the BBC's ad was individually embroidered to convey notable moments in World Cup history. The stunning campaign pays tribute to the Russian art whilst simultaneously acting as a massive celebration of football.
Billie

Female body hair is a subject that's usually – and ironically – glossed over somewhat by hair removal brands. Shaving razor subscription brand, Billie, decided it was time to go against the usual "razors gliding over silky smooth legs" approach by fully acknowledging the fact that women have hair too. Billie's video celebrates women, tackles the old portrayal of the female body, normalises body hair and makes it clear that women have a choice when it comes to shaving.
Stabilo
Sometimes even the simplest things make the biggest impact. Take Stabilo, for instance; their campaign this year involved taking a black and white photo and highlighting one element. That element being a remarkable woman from history who otherwise may not have been spotted in amongst the other features in the picture. 'Highlight the Remarkable' featured in Germany and noted significant women from history such as NASA mathematician Katherine Johnson, physicist Lise Meitner and Edith Wilson, the US first lady.
Gillette

Intent on redefining perceptions of the modern male, Gillette's famous slogan "Best a Man Can Get" is turned upside down in order to question what best actually means to men in the modern day. Using a selection of actors to convey subtle emotion in both day-to-day and life-changing scenarios, Gillette show they understand that "best" to today's man isn't the same as it was when their original campaign aired back in 1989.
Heineken
Every match has unmissable moments for everyone. Don't even blink. #ThatsHeineken #UCL #ChampionsLeague @championsleague @Pirlo_official pic.twitter.com/ASKzYluBSB

— Heineken (@Heineken) September 18, 2018

All too often when watching a match, you turn your eyes away for a second and you miss a crucial moment. Taking this and adding some humour, UEFA Champions League sponsor, Heineken, marked the opening of the season with a video filled with these unfortunate and relatable moments, together with a cameo from Andrea Pirlo. The ad is guaranteed to make you smile, as well as generate a few shares and reactions across social media.